ORBIS CASINOS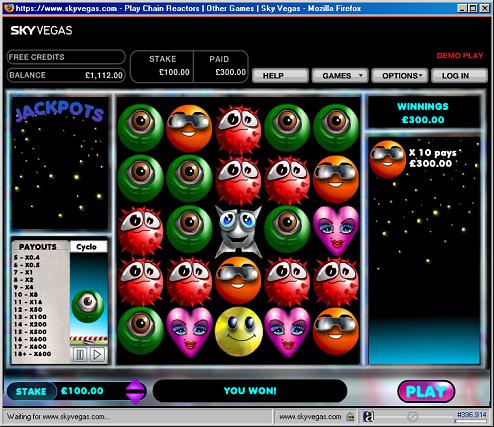 Introduction
Orbis OpenBet is a small software provider that offers flash casino games. They seem to specialize in unique instant win games, like in the screenshot above. However, they also offer blackjack and other common table games. Graphics are solid, but game quality is weak. Games are often slow, even when the "turbo" option is selected. Casinos rarely offer the full suite of possible Orbis games. Instead a small portion may be used, and games may be mixed with another software. For example, Mecca Games uses Orbis for their table games and Wagerworks for their slot games. The Orbis customer list includes many well known and large casinos like Ladbrokes, VC, Sky Bet, Blue SQ, Centrebet, and Totesport. Most customers only use Orbis for their "Games" tab (not the main "Casino"), which may not offer a bonus. The casinos offering a bonus that can be played with Orbis software are listed towards the bottom of this page. All of these casinos are reputable. Orbis software is known to have software bugs. See the Orbis warning for more information.
Game Selection & House Edge
Games selection varies widely from one Orbis casino to the next. The table below lists the games that may be available and the corresponding default house edge. I believe some house options are configurable, such as the number of decks in blackjack and the paytable in video poker. Most casinos seem to use the default values listed below.
Bonuses
Casinos using Orbis software may offer cashable bonuses, post-wager, or sticky bonuses. Specific details vary from one casino to the next.
Country Restrictions
Orbis casinos exclude players from the United States. Restrictions for other countries vary widely.
Casino List
Casinos using Orbis software are listed below. I've listed casinos offering a bonus that can be played with Orbis software. Betway, Blue SQ, Paddy Power, and Totesport use Orbis software for their "Games" tab, but do not seem to offer a games bonus. Click on a column header to sort by that measure.
Casino
Group
Bonus EV
Max Bonus
Bonus %
Wager
Type
Game
Notes
BalkanBet
Independent
+$470
$700 (€500)
10%
66xB
Cashable
Blackjack
Warning: 30 day delay on 1st withdrawal, Table games use Orbis SW, Slots use Wagerworks SW
Bet365 Games
Bet 365
+$20
$20
100%
24xB
Cashable
Blackjack
Betfair Arcade
Independent
+$5
$8 (£5)
100%
2xB
Free Bet
Slots
Warning!, Table games use Orbis SW, Slots use Wagerworks SW
Jennings Bet Games
Independent
Negative
$150 (£100)
100%
50xB
Cashable?
Casino Dice
Warning!
Ladbrokes Games
Ladbrokes
+$35
$45 (£30)
150%
6xB
Post-wager
Slots
2 parts, Many countries restricted, Bonus size varies by country
Mecca Games
Rank
+$70
$75 (£50)
100%
2xB
Post-wager*
(until 1xB)
Slots and Varies
*Withdrawable after 1xB wager, No Moneybookers or Neteller, One bonus between Mecca & BlueSQ
Mr123.com
Independent
Negative
$150 (£100)
100%
30xB
Unique
Slots
Parlay sticky (more valuable than standard sticky), Warning: Possible slow pay
Sky Vegas
Sky Bet
+$15
$15 (£10)
Varies
3xB
Post-wager
Slots
Additional bonuses with higher wagering, No Neteller or Moneybookers, Table games use Orbis software, Slots use Wagerworks
Vernons
Independent
+$15
$15 (£10)
50%
0xB
SR Free Bet
Varies
SR free bet that can be played on casino games
Victor Chandler Casino
Victor Chandler
+$220
$260 (£175)
Varies
~29xB
Post-wager
Live
Blackjack
William Hill Games Casino
Independent
+$30
$30 (£20)
Varies
6xB
Post-wager
(until 5xB)
1-play
Video Poker
Games Casino bonus, See T&C
Group -- Casinos often are linked together in e group. These groups are listed in the table. I recommend not simultaneously playing two sign up bonuses from the same group. Wait until payment is received, then play at the next casino.
Bonus EV -- EV stands for Expected Value. Bonus EV indicates the average expected gain of the bonus with the following play: Cashable and Post-wager bonuses -- Playthrough the bonus on the listed game with unlimited banrkoll; Sticky and Clearplay bonuses -- Make high variance bets to a 2x target, then playthrough bonus; Free Play and Unique bonuses -- See the listed strategy.
Max Bonus -- The bonus that is given with the maximum allowed deposit for that bonus. If the max value is expressed as one number + another, then there are two bonuses, usually one signup bonus and one deposit method bonus. If the value is expressed as a range, then the bonus is dependent on return from a free play offer.
Bonus % -- Bonus % indicates the ratio between the bonus and your deposit. If a $300 bonus is given on a $100 deposit, the bonus % is 300%.
Wager -- Wager indicates the wagering requirement for the bonus. All wagering requirements are expressed in terms of the bonus. For example, the wagering requirement at Golden Palace is 20x(bonus+deposit). With a $100 deposit, the wagering requirement would be ($300 + $100)x20 = $8000. $8000 is 27x the $300 bonus, so the value in the table is 27xB. Clearplay bonuses may list two wagering requirements -- the minimum wagering requirement and the wagering requirement on the game French Roulette. "0xB / 60xB" indicates that you can cash out your winnings immediately (0xB), and if you complete the playthrough on French Roulette there is a 60xB wagering requirement.
Type -- Cashable bonuses are given at the start of wagering and become withdrawable after completing wagering. Like cashable bonuses, post-wager bonuses are withdrawable after completing wagering. However, they are not given until completing wagering. Sticky bonuses can be bet, but cannot be cashed out. Clearplay bonuses are a special type of cashable bonus offered by many Microgaming casinos games are weighted at different percentages and bonuses are gradually converted to cash while completing wagering. Free play bonuses involve play without making a deposit. After finishing the free play, winnings are credited as a bonus. Unique bonuses have unique rules and do not fit in any of the categories above.
Game -- Game indicates the recommended game to play the bonus.
Notes -- Notes indicates other important things to take note of, such as associated warnings.
Copyright © 2006-2014 www.beatingbonuses.com. All Rights Reserved.