ORBIS SOFTWARE WARNING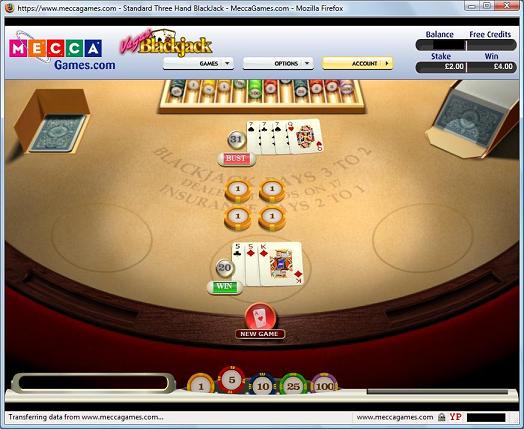 Minor software bugs may occur while using Orbis software. An example is in the screenshot above, which shows the dealer hitting on a hard 21, resulting in a player win. Some players have had similar issues with the game pontoon failing to recognize a dealer 21. Similar issues have been observed as of Novemeber 2008. However, they are quite rare.
The most extreme play result I've heard involves a 5.3SD loss in roulette at JenningsBet (odds of 1 in 15 million) in a session with steaks of six 10s in seven spins and six 31s in eight spins. This data suggests roulette may have software bugs that can favor the dealer. Blackjack and pontoon results seem reasonable. The vast majority of site players report normal blackjack and pontoon net win/loss results with this software, including some rare wins and wins as large as €2000. However, some players have also had rare losses. The rarest loss I'm aware of in blackjack was 4.1SDs over 51 hands at VC Games (odds of 1 in 40,000). Note that the estimated rareness of the event is not precise due to the low number of hands.
Copyright © 2006-2014 www.beatingbonuses.com. All Rights Reserved.