RANDOM LOGIC CASINOS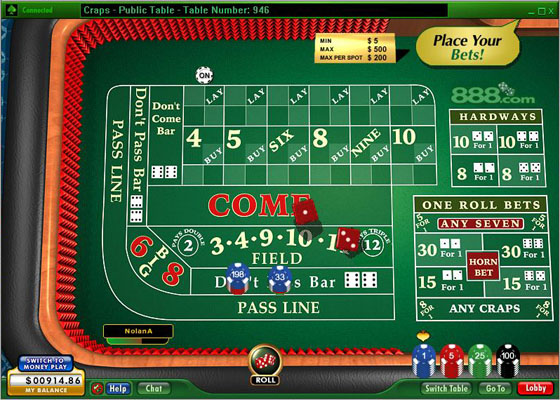 Introduction
Random Logic (also known as 888 Holdings) is the proprietary software of 888.com, Littlewoods, Lucky Aces, Racing Post, and Reef Club. 888.com (also known as Casino-on-Net) claims to be "the largest online gaming venue" with over 25 million players throughout their 10 year history. The ownership group, 888 Holdings, is a publicly traded company. Unfortunately, graphics, features, game selection, and general quality do not measure up to the larger software groups like Microgaming or Playtech. The most common casino games are available, but other table games like war and red dog are not. Periodic game freezes may occur while playing. If you can handle these negatives, 888.com is generous with bonuses.
The 888.com group used to have a good reputation. No referred players contacted me about issues at 888.com for years. In late 2009, something changed, and now there is a significant risk of issues as discussed in the warning.
Game Selection & House Edge
The table below lists the available games and corresponding house edge.
*House edge of Slots is estimated based on payout audits
*Exact house edge of Royal Diamonds video poker depends on size of progressive jackpot
Bonuses
Random Logic bonuses are cashable with a wagering requirement. Some casinos give 25% of the bonus up front and the remaining 75% after accumulating 400 comp points. All games are usually allowed, but simultaneous winning & losing wagers are not allowed. 888.com offers a happy hour bonus each month that must be deposited between specific hours. Other bonuses are offered and/or given periodically while logged in. I was offered a $250 sign-up bonus, instead of the usual $200 bonus while playing in practice mode before joining.
Country Restrictions
Random Logic casinos exclude players from the United States. Other countries are generally allowed. Some casinos increase wagering on the first 25% of the bonus for countries that have a higher rate of so called "bonus abuse" (Finland, Hong Kong, Moldova, Poland, Russia, Sweden, Ukraine, Estonia, Hungary, Thailand, Czech Republic, Brazil, Singapore, Taiwan, and China). The total wagering remains the same, if you claim the 2nd portion of the bonus and keep playing until accumulating 400 comp points.
Casino List
A list of casinos using Random Logic software is below.
Table Definitions
Group -- Casinos often are linked together with a single group. These groups are listed in the table. I recommend not simultaneously playing two sign up bonuses from the same group. Wait until payment is received, then move to the next casino.
Bonus EV -- EV stands for Expected Value. Bonus EV indicates the average expected gain of the bonus with the following strategy -- Playthrough the bonus on the listed game with unlimited banrkoll.
Max Bonus -- Max bonus indicates the maximum bonus that can be received.
Bonus % -- Bonus % indicates the ratio between the bonus and your deposit. If a $300 bonus is given on a $100 deposit, the bonus % is 300%.
Wager -- Wager indicates the wagering requirement for the bonus. All wagering requirements are expressed in terms of the bonus.
Game -- Game indicates the recommended game to play the bonus.
USA? --"No" means the casino allows no players from the United States. "No New " means the casino allows existing players, but does not permit new registrations. "Yes" means the casino allows players from anywhere in the United States. "Some" means the casino allows players from some US states, but not others. Microgaming casinos typically allow players in 39 US states. They do not permit players from 11 states where gambling is legislated illegal or where there have been related court cases -- Illinois, Indiana, Louisiana, Michigan, Nevada, Oregon, South Dakota, Washington, Wisconsin, New York and New Jersey.
Notes -- Notes indicates other important things to take note of, such as associated warnings.
Copyright © 2006-2014 www.beatingbonuses.com. All Rights Reserved.