GALA-CORAL SOFTWARE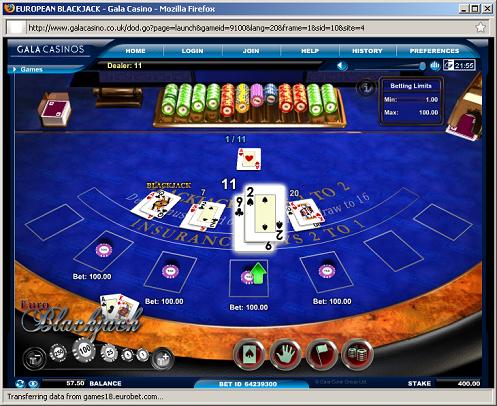 Introduction
Gala and Coral offer a unique flash casino that is a mix of several softwares. This Gala-Coral software mix is used as the primary casino at Gala and as the "Games" casino at Coral . Most table games imitate Chartwell. Games have the same rules & and house edge as the corresponding Chartwell game, including unique rules that are not found in other softwares, such as no splitting 4s, 5s, and 10s. European blackjack is a key exception. The Gala-Coral software uses full early surrender, resulting in a low house edge of 0.03%. The corresponding Chartwell game only offers early surrender against a 10. While the rules are similar to Chartwell, the games have major improvements. Play is much faster than Chartwell, and games have superior features. Many of the slot games use Wagerworks software, such as the Elvis slots and Cluedo. Video poker, Trentequarante, and several of the arcade games use a 3rd software, which I do not recognize. This 3rd software is not impressive. Only 1 play video poker is available, and games have a high house edge. I consider all casinos in this group to be reputable.
Game Selection & House Edge
The table below lists the available games and corresponding house edge.
*Estimation based on house edge of supported Wagerworks games
Bonuses
Gala-Coral group bonuses are cashable with a wagering requirement. Bonuses are usually not given until after completing wagering (post-wager). The group offers a quality sign-up bonus as well as monthly reload and monthly live dealer bonus. The Coral-Eurobet-Gala group uses a unique and complicated system of bonuses and intertwined accounts. Support tells me that players may have separate accounts at both Coral and Eurobet, and claim sign-up bonuses at each casino. However, support says only one bonus is allowed between Coral and Gala. In the past, support has allowed players to claim both bonuses using different usernames. This no longer seems to be allowed.
Country Restrictions
The Gala-Coral group excludes players from Australia and the United States.
Casino List
Casinos using Gala-Coral-Eurobet software are listed below. Click on a column header to sort by that measure.
Casino
Group
Bonus EV
Max Bonus
Bonus %
Wager
Type
Game
Notes
Coral Games
(games tab)
Coral
None
None
None
None
None
None
See Summary, No Neteller or Moneybookers, Baccarat bonus in Chartwell casino
Table Definitions
Group -- Casinos often are linked together in e group. These groups are listed in the table. I recommend not simultaneously playing two sign up bonuses from the same group. Wait until payment is received, then play at the next casino.
Bonus EV -- EV stands for Expected Value. Bonus EV indicates the average expected gain of the bonus with the following play: Cashable and Post-wager bonuses -- Playthrough the bonus on the listed game with unlimited banrkoll; Sticky and Clearplay bonuses -- Make high variance bets to a 2x target, then playthrough bonus; Free Play and Unique bonuses -- See the listed strategy.
Max Bonus -- The bonus that is given with the maximum allowed deposit for that bonus. If the max value is expressed as one number + another, then there are two bonuses, usually one signup bonus and one deposit method bonus. If the value is expressed as a range, then the bonus is dependent on return from a free play offer.
Bonus % -- Bonus % indicates the ratio between the bonus and your deposit. If a $300 bonus is given on a $100 deposit, the bonus % is 300%.
Wager -- Wager indicates the wagering requirement for the bonus. All wagering requirements are expressed in terms of the bonus. For example, the wagering requirement at Golden Palace is 20x(bonus+deposit). With a $100 deposit, the wagering requirement would be ($300 + $100)x20 = $8000. $8000 is 27x the $300 bonus, so the value in the table is 27xB. Clearplay bonuses may list two wagering requirements -- the minimum wagering requirement and the wagering requirement on the game French Roulette. "0xB / 60xB" indicates that you can cash out your winnings immediately (0xB), and if you complete the playthrough on French Roulette there is a 60xB wagering requirement.
Type -- Several types of bonuses are listed in the table. Cashable bonuses are given at the start of wagering and become withdrawable after completing wagering. Like cashable bonuses, post-wager bonuses are withdrawable after completing wagering. However, they are not given until completing wagering. Sticky bonuses can be bet, but cannot be cashed out. Clearplay bonuses are a special type of cashable bonus offered by many Microgaming casinos games are weighted at different percentages and bonuses are gradually converted to cash while completing wagering. Free play bonuses involve play without making a deposit. After finishing the free play, winnings are credited as a bonus. Unique bonuses have unique rules and do not fit in any of the categories above.
Game -- Game indicates the recommended game to play the bonus.
Notes -- Notes indicates other important things to take note of, such as associated warnings.
Copyright © 2006-2014 www.beatingbonuses.com. All Rights Reserved.