FUTUREBET & IGS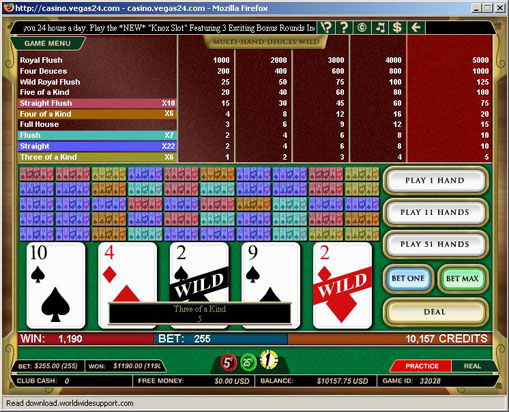 Introduction
Futurebet, iGamingSoftware, and Interactive Gaming Systems offer a similar software and games list. The groups share various support and sever resources. I understand that IGS purchased the source code for Futurebet and made minor tweaks. There are several other softwares that claim to not be Futurebet, yet use the same Futurebet games and offer Futurebet style support and server resourses. Futurebet may offer a rebranding program and/or being trying to mask their image. I consider Futurebet/IGS software to be average quality for a smaller group. The basic game choices are there, including multi-hand video poker and video slots. However, there are few games beyond the basic selection. There is only one variety of blackjack and few video poker alternatives. Some of the games have sloppy graphics and lack features. Many video poker payables may be used, including some of the worst paytables I have ever seen, with a house edge of nearly 8%. Players have reported normal results gain/loss results on blackjack and baccarat. However, play can be quite slow. Many of the Futurebet casino websites are poorly maintained and have a non-professional feel. They may list incomplete or contradictory information about the sign-up bonus. Most casinos are untested. Be cautious.
Warning!
Futurebet has a very poor reputation among the online gaming community. They have a disproportionately high number of player disputes, which sometimes relate to slow payment or non-payment of winnings. For example, there was a major incident involving non-payment with Pokes Poker in late 2006/early 2007. Another concern is to be labeling players as "bonus abusers." At least 2 players have been labeled as bonus abusers and initially denied winnings at Vegas24. I believe this label relates to a pattern of play involving thousands of small bets on banker in baccarat. Several players have contacted me about slow cashouts at Empire. One player contacted me about a slow cashout (still not paid after 3 months) at Monkey Bet. If you play at a Futurbet casino, there is a significant risk of not being paid. Having said that, there are some Futurebet-linked software groups that are consistently paying winnings at the time of this update (Mar 2009).
Game Selection & House Edge
The table below lists the available games and corresponding house edge.
Game

House Edge

Per Initial Bet

Per Unit Wagered

3 Card Poker: Ante & Play

3.37% or 4.28%

2.01% or 2.56%

3 Card Poker: Pair Plus

3.49% or 7.28%

3.49% or 7.28%

Baccarat: Mini/Scorecard (Banker bet)

1.06%

1.06%

Blackjack

0.55%*

0.49%*

Caribbean Poker

5.22%

2.56%

Casino War

2.88%

2.68%

Craps: Pass, 3x Odds

1.41%

0.47%

Craps: Don't Pass, 3x Odds

1.36%

0.45%

Keno

7.25 to 25%

7.25 to 25%

Pai Gow

~2.7%

~2.7%

Red Dog

3.16%

2.67%

Ride On Poker

3.51%

2.85%

Roulette: European

2.70%

2.70%

Roulette: American

5.26%

5.26%

Slots (Usually ~21 games)

???

???

Video Poker: Deuces Wild (1-51 hands)

0.34%, 6.73%, or ...*

0.34%, 6.73%, or ...*

Video Poker: Double Double Bank (1-51 hands)

2.68%, 5.34%, or ...*

2.68%, 5.34%, or ...*

Video Poker: Jacks or Better (1-51 hands)

1.11%, 7.87%, or ...*

1.11%, 7.87%, or ...*

Video Poker: Joker Poker (1-51 hands)

1.19%, 7.29%, or ...*

1.19%, 7.29%, or ...*
*Some casinos have a SW error, which prevents doubling in blackjack, increasing house edge above these values.
*Many different paytables are available. iGamingSoftware casinos tend to use the highest listed payout.
Bonuses
Bonuses are cashable with a wagering requirement. Some bonuses have two sets of wagering requirements -- a conversion wagering to claim the "free money" and a rollover wagering to withdraw it. You work towards both wagering requirements at the same time, so the larger one represents the total wagering you need to complete. For example the USD Bet terms state, "For every $59 you wager in the casino you receive $1 from your bonus." and "When receiving a bonus players are required to roll-over (play through) the deposit and bonus amount at least eight time (8X) before a cashout can be made." This means you need to wager 60xB to convert the bonus and 8x(B+D)=16xB to withdraw the bonus. You meet both wagering requirements at the same time, so the total wagering required is 60xB. Unfortunately, some casinos do not list wagering requirements on their website, and conversion wagering ratios often vary from one casino to the next. You may need to contact live support to get information about wagering.
Casino List
A list of a few casinos using Futurebet & IGS software is below. This list is meant to be a few examples of the software. It is by no means a complete list.
| Casino | Group | Bonus EV | Max Bonus | Bonus % | Wager | Type | Game | USA? | Notes |
| --- | --- | --- | --- | --- | --- | --- | --- | --- | --- |
| Vegas24 | IGS | Negative | $200 | 100% | 40xB | Cashable | 3 Card Poker | No | Warning!, Video Poker is far from full pay, Support tells me free money conversion is $39 to $1 |
Table Definitions
Group -- Casinos often are linked together in e group. These groups are listed in the table. I recommend not simultaneously playing two sign up bonuses from the same group. Wait until payment is received, then play at the next casino.
Bonus EV -- EV stands for Expected Value. Bonus EV indicates the average expected gain of the bonus with the following strategy -- Playthrough the bonus on the listed game with unlimited banrkoll
Max Bonus -- Max bonus indicates the maximum bonus that can be received.
Bonus % -- Bonus % indicates the ratio between the bonus and your deposit. If a $300 bonus is given on a $100 deposit, the bonus % is 300%.
Wager -- Wager indicates the wagering requirement for the bonus. All wagering requirements are expressed in terms of the bonus.
Game -- Game indicates the recommended game to play the bonus.
USA? --"No" means the casino allows no players from the United States. "No New " means the casino allows existing players, but does not permit new registrations. "Yes" means the casino allows players from anywhere in the United States. "Some" means the casino allows players from some US states, but not others. Microgaming casinos typically allow players in 39 US states. They do not permit players from 11 states where gambling is legislated illegal or where there have been related court cases -- Illinois, Indiana, Louisiana, Michigan, Nevada, Oregon, South Dakota, Washington, Wisconsin, New York and New Jersey.
Notes -- Notes indicates other important things to take note of, such as associated warnings.
Copyright © 2006-2014 www.beatingbonuses.com. All Rights Reserved.