GRAND VIRTUAL CASINOS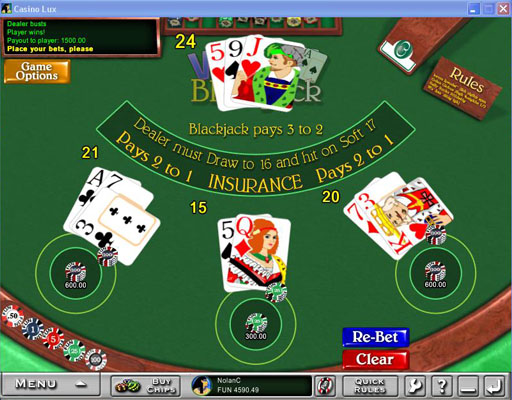 Introduction
In my opinion, Grand Virtual was the best of the smaller casino software providers. It was quite disappointing to see the Grand Virtual casinos switch to Playtech in early 2013. I am not aware any casinos using Grand Virtual software that are still active. I am keeping this page up as a reference.
Grand Virtual casinos have a surprisingly large selections of blackjack and video poker games, including ones that are not found elsewhere, such as 22 varieties of 500-play video poker. However, they lack some common table games like 3-card poker. Slots are often creative and an interesting change from other softwares. Graphics and general quality are good for a smaller software group, but inferior to some of the larger softwares. Some games have a lower house edge than typical. Red Dog has a configurable number of decks, resulting in the lowest house edge I have seen online. Three versions of blackjack with a house edge below 0.3% are available. One weak points of the software is not having an easy way to track wagering. I try to keep a running total of how much I have wagered in my head while playing. Support is another weak point. There is no phone support or live support. They do respond to emails and have a support rep on Casinomeister. The casinos have "instant withdrawals." I usually see withdrawals in Neteller on the same day. Grand Virtual casinos have a solid reputation and are accredited at Casinomeister. I have found games to be fair, and the gain/loss of referred players falls near expectations. However, some believe the games are biased.
Game Selection & House Edge
The table below lists the available games and corresponding house edge.
*House edge of slots is estimated based on payout audits, which are quite consistent
*House edge of solitaire depends on strategy and is estimated based on my play
Bonuses
Grand Virtual uses a unique bonus system. Bonuses differ from a traditional sticky (a bonus that can be bet, but can never be withdrawn) in two key ways:
1. The bonus is not removed from your account after a withdrawal. After completing the wagering requirement, you can cash in your winnings and deposit, then continue betting the bonus.
2. If your bonus balance drops due to losses and you have completed wagering, any wins on the remaining balance are immediately cashable. You do not need to exceed the original balance to make a cashout. If you have not completed wagering, any wins using your bonus balance are credited to your bonus balance (not your cash balance).
The allowed games for bonus wagering are also unique. Some video poker games are allowed, and others are not. See the T&C for details.
Country Restrictions
Grand Virtual casinos exclude players from the United States. Other countries are generally allowed.
Casino List
Unfortunately all casinos using Grand Virtual software have either closed or switched to Playtech.
Table Definitions
Group -- Casinos often are linked together with a single group. These groups are listed in the table. I recommend not simultaneously playing two sign up bonuses from the same group. Wait until payment is received, then move to the next casino.
Bonus EV -- EV stands for Expected Value. Bonus EV indicates the average expected gain of the bonus.
Max Bonus -- Max bonus indicates the maximum bonus that can be received.
Bonus % -- Bonus % indicates the ratio between the bonus and your deposit. If a $300 bonus is given on a $100 deposit, the bonus % is 300%.
Wager -- Wager indicates the wagering requirement for the bonus. All wagering requirements are expressed in terms of the bonus.
Game -- Game indicates the recommended game to play the bonus.
Notes -- Notes indicates other important things to take note of, such as associated warnings.
Copyright © 2006-2014 www.beatingbonuses.com. All Rights Reserved.