VUETEC CASINOS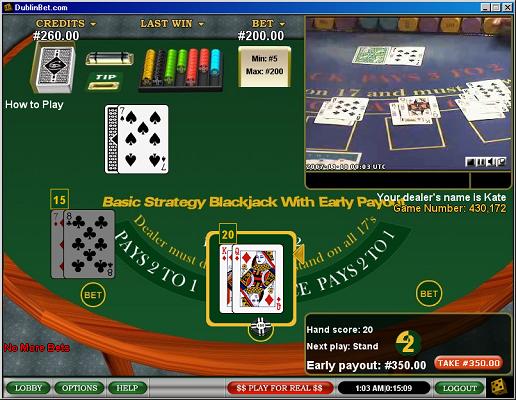 Introduction
VueTec casinos emphasize their live dealer features. Live blackjack, roulette, and baccarat tables are broadcast from the Fitzwilliam Card Club in Dublin. In live blackjack, the player does not have the typical hit / stand / double strategy decisions. Instead the dealer makes all the plays using basic strategy, and the player has the option to either continue or take an "early payout." I prefer the computerized blackjack, which has a small player edge of 0.07% with optimal strategy due to a full early surrender. Game selection is unique. There are several games that I have not seen anywhere else, like 3-5-7 Poker and Grand Slam. However, several common games are missing, like craps and 3-card poker. Like many no download casinos, graphics and general quality are weak. Game play is slow, especially for live games. I consider the group to be reputable. Disputes among referred players are rare.
Game Selection & House Edge
The table below lists the available games and corresponding house edge.
Bonuses
VueTec casinos offer cashable bonuses with a default wagering requirement of 74xB on "Poker" (Oasis Poker). In addition to the sign-up bonus, reload bonuses of 5-15% are given on a all deposits, with similar high wagering. Bonus terms include the clause "Professional players or players we determine to be abusing the bonus offers may face additional restrictions and/or lockouts."
Casino List
A list of casinos using VueTec software is below.
Table Definitions
Group -- Casinos often are linked together in e group. These groups are listed in the table. I recommend not simultaneously playing two sign up bonuses from the same group. Wait until payment is received, then play at the next casino.
Bonus EV -- EV stands for Expected Value. Bonus EV indicates the average expected gain of the bonus with the following strategy -- Playthrough the bonus on the listed game with unlimited banrkoll
Max Bonus -- Max bonus indicates the maximum bonus that can be received.
Bonus % -- Bonus % indicates the ratio between the bonus and your deposit. If a $300 bonus is given on a $100 deposit, the bonus % is 300%.
Wager -- Wager indicates the wagering requirement for the bonus. All wagering requirements are expressed in terms of the bonus.
Game -- Game indicates the recommended game to play the bonus.
Notes -- Notes indicates other important things to take note of, such as associated warnings.
Copyright © 2006-2014 www.beatingbonuses.com. All Rights Reserved.