TRIPLE POCKET HOLD'EM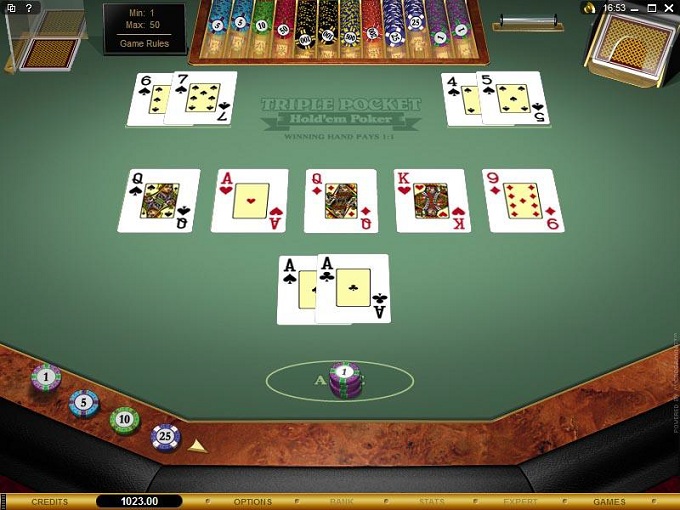 Introduction
Triple Pocket Hold'em is a variation of the game Texas Hold'em in which you play against a casino dealer. The game is available at casinos using Microgaming software. Several other available table poker games have a lower house edge per wager, so Triple Pocket Hold'em is not a common choice for completing a wagering requirement.
Rules and Play
The name Triple Pocket Hold'em relates to the game's three pocket hands -- one player pocket hand and two dealer opponent pocket hands. Like typical hold'em games, there are five community cards, which are shared between the player and opponents. The player must beat both of the two dealer opponent hands to win. At the start of the hand all community cards and all dealer pocket cards are unknown. Knowing only his two-card pocket hand, the player must decide to either keep his pocket hand or swap it with one of the unknown dealer hands. If he keeps the hand, all cards are revealed and hands are scored. If he swaps the hand, then the player can view the cards he received from the dealer and has one more swap decision. He can either keep his second hand or swap it with the second dealer hand. He cannot re-swap with the first dealer hand. After the second swap decision, the hands are scored according to standard TX hold'em poker rules. If the player's hand beats both of the dealers' hands, the player's bet pays according to the table below. If either of the dealer hands beats the player hand, he loses his bet. There are no raise opportunities or additional bet options.
| | |
| --- | --- |
| Hand | Payout |
| Royal Flush | 50:1 |
| Straight Flush | 20:1 |
| 4 of a Kind | 10:1 |
| Full House | 4:1 |
| Flush | 2:1 |
| Straight or Less | 1:1 |
Strategy
Start of hand -- You should hold with the minimum hands below. That is, you should hold with a suited Q8, and swap with a suited Q7 or 22 pair.
Pair -- 33
Suited -- A2, K4, Q8, J8, T8
Unsuited -- A5, K9, QT, JT

After First Swap -- Unfortunately, there is no simple way to explain the 2nd hold/swap decisions of Triple Pocket Hold'em, due to the large number of exceptions to general rules. Instead I recommend using the Triple Pocket Hold'em Strategy Calculator, which compares the EV or holding to swapping and returns the highest EV decision. Once you get a feel for the game, you will recognize hands that a large portion of hands are obvious, and you will only need to use the calc for a small minority of hands.
House Edge & Variance
Under standard rules, the house edge of Triple Pocket Hold'em is 2.27%. The standard deviation of Triple Pocket Hold'em is 1.37. There are no raises, so the house edge & variance per initial bet are the same as the house edge & variance per wager.
Copyright © 2014 www.beatingbonuses.com. All Rights Reserved.