SCRATCH CARD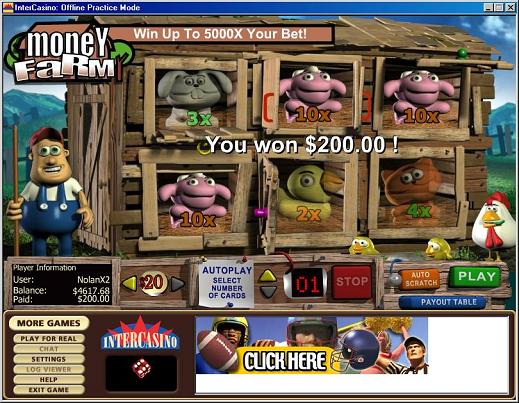 Introduction
Many casino softwares offer one or more instant win scratch card games, much like the scratch cards games available in offline stores. The games usually have a high house edge and high variance, making it a poor choice for bonus play.
Rules and Play
Scratch card games typically have 6 boxes with hidden symbols, which are revealed by "scratching." If 3 of the 6 symbols match, the player wins. The size of the win varies according the the game's paytable. Scratch cards have a variety of fun themes, which usually have no impact on the play.
Strategy
There is no strategy to scratch games. Simply scratch and see if you have won or not.
House Edge
There is no way to compute the house edge for scratch card games, as it depends on behind the scene preset probabilities. Rival says their games have a 3.05% house edge. Net Ent says their games have a house edge of ~5%. When Microgaming game weightings specifically mention scratch cards or parlor games (scratch cards fall into parlor games group), they are grouped with the highest house edge games, like slots and keno. Most others are unknown.
Variance and Bet Size
Like slots, the variance of scratch card games is usually quite high. Large wins are extremely rare. Unfortunately, I do not have specific standard deviation numbers.
Copyright © 2014 www.beatingbonuses.com. All Rights Reserved.