WHO AM I?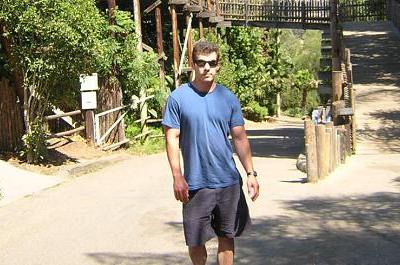 Introduction
My name is Nolan. I founded this site and am responsible for most of the content. I'm originally from upstate New York. I moved to California for college at Stanford where I completed several graduate degrees in engineering fields. I learned about HTML and web design by reading a book on the subject, then taking a part-time job as a website designer while in college. I also gained experience through an earlier website I started about travel. That site was quite successful and grew to the largest of its type. At its peak, the site received hundreds of forum posts per day. I live near San Diego and work as a digital comm. engineer.
Some are familiar with the puppy I use as an avatar in my forum posts. She is a German Shepherd / Shar Pei mix named "Ice Cream." She is ~1 year old, older than many of the pics. Ice Cream is usually by my feet while I am online.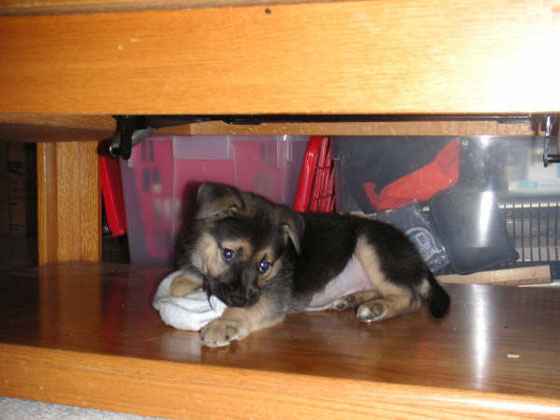 Gambling History
My now ex-girlfriend and I decided to take a weekend trip to Las Vegas for a 3rd date. It was an amazing trip, one of my most enjoyable vacations ever. We saw Cirque du Soleil, went on several of the thrill rides, won prizes at the Circus Circus carnival-like games, checked out the hotel-casinos, and much more. However, we did not gamble much. We may have wagered only $20 over the course of the whole trip. During our last few hours in Vegas, we visited The Venetian. The hotel-casino was incredible, with the Venice theme and sky-like ceilings. While leaving, I had $1 cash in my pocket, so we decided to play it on a slot spin. This was our only bet of the day. That $1 spin won $750, which was more than enough to pay for the whole trip! It was the perfect end to an incredible trip.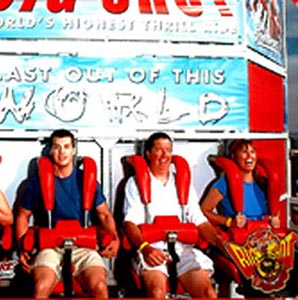 This amazing experience caused me to get interested in gambling, especially winning at gambling. I initially looked into card counting. One of the lowest house edge games listed in my drill software was Boss Media single-deck BJ (0.11% player edge), so I decided to start online. At the time I did not know that this game shuffles after each hand and that single-deck BJ is not available at many Boss Media casinos. After searching around the Internet, I came across casino.net. I was pleasantly surprised to find that the casino offered a bonus and deposited the maximum of $800 to receive a $200. I completed the $10,000 wagering with $25 bets on blackjack. This could have gone extremely badly with this large a bet size and using incorrect strategy (single-deck vs multi-deck). However, I still ended up gaining $1300! I remained above my starting balance throughout the entire wagering.
This 2nd amazing experience caused me to look into online casinos and casino bonuses. I soon learned my mistakes at casino.net and learned about the many superior sign-up bonuses. I was especially interested in the mathematics of bonuses and expected gain. I joined many new casinos. I usually signed up at several new casinos per week. I also did all the quality reload bonuses and monthly bonuses that I was aware of. I'd be so anxious to do the monthlies that I completed a good portion of them on the 1st day of the month. I had some wins and some losses, but gained money over time. My average gain during this period was ~$5000/month. I later used this money to buy a new car, a new kitchen, pay off a good portion of my mortgage, and more.
During this period, I was frustrated with the available websites on bonuses. The recommended bonuses and bonus rankings often did not make sense to me. Some casinos were listed that clearly did not belong near the top of best bonuses lists. Other casinos that did not belong were ignored. I later learned that the odd recommendations were often tied to the size of affiliate payments, rather than bonus quality. This made me think about making my own site, but I was too busy with other things.
Things went well for awhile. The two biggest changes occurred in late 2006. The girl I had mentioned earlier and I had been living together. In late September she was required to leave the country due to conditions of a scholarship visa. A short time later, gambling legislation passed which limited my online casino play. I made the best of bad situation and used my new extra free time to create the website I had thought about earlier.
Beating Bonuses Website
I have included all the things in this website that I had looked for earlier including a bonus list ranked by quality, rather than size of a affiliate payments and extensive game information. The site has lots of unique content not found elsewhere on the web, including game strategy and return/variance calculators. The site has led the way for many important developments such as the first optimal strategy for the game casino hold'em, the first correct equations I've seen for EV when the bonus is given pre-wager (uses "average wagering", house edge per unit wagered, and for stickys chance of bust), introducing the concept of standard deviation per unit wagered, and new strategies / simulators showing why betting to a target gain works and why EV can change with bet size. I consider the site to be the best of its type. I still improve and update the site often and enjoy doing so. This website has been a great experience for me.
Copyright © 2006-2014 www.beatingbonuses.com. All Rights Reserved.